News
West celebrates album anniversary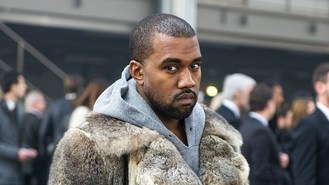 Kanye West and Kim Kardashian have celebrated the 10-year anniversary of the rapper's debut album with a giant bear cake.
The couple shared a photo of themselves on Instagram with the huge cake, which had 10 candles to mark the decade since the rapper unveiled The College Dropout and was shaped like a teddy to resemble the bear on the cover of the Grammy-winning record.
Kim wrote: "Ya you know what this is... it's a celebration b****essss' #TheCollegeDropoutDinner."
Kanye also released a statement about the milestone.
He said: "Ten years ago today we finally released what had been my life's work up to that point: The College Dropout. I say 'finally' because it was a long road, a constant struggle, and a true labour of love to not only convince my peers and the public that I could be an artist, but to actually get that art out for the world to hear. I am extremely grateful to each and every person along that road who helped, lent an ear, lent their voice, gave of their heart to that project, and to all the projects that followed, and are to come."
He went on: "I am honoured and humbled by my fans, for the unwavering support and love over the past 10 years. I wake up every day trying to give something back to you that you can rock to and be proud of. Ten years later I am still the same kid from Chicago, still dreaming out loud, still banging on the door.
"The doors may be heavier but I promise you WE WILL BREAK THEM."
Kim heaped praise on her hubby-to-be, saying his record was a "game changer".
She added: "Could only imagine what you were thinking and feeling today 10 years ago! Happy anniversary to the best producer/artist over the past decade!!!! Can't wait for the next 10 years! Gonna be listening to this album all day. #TheCollegeDropout #ChangedHipHop."
Source: music.uk.msn.com
Added automatically
925 views