News
Sir Cliff to share Morrissey stage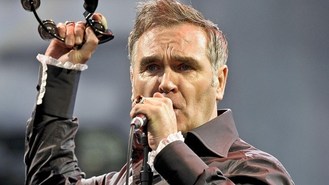 Sir Cliff Richard has been lined up as an unlikely support act for controversial singer Morrissey for a major US show - but admitted he initially thought it was a wind-up.
The Devil Woman and Living Doll singer admitted he could not name of the ex-Smiths frontman's hits and warned that he would not be ditching meat in order to play on the same bill in New York as the famously vegetarian performer.
The unusual combination is one of two shows Morrissey has lined up with veteran pop knights as "special guests" in the coming months, as he has also announced a show with Sir Tom Jones in Los Angeles.
Sir Cliff said he wondered whether the approach had been a joke when his manager told him.
He told the BBC's Colin Paterson on BBC Radio 5 live: "I said, 'my initial answer is yes but can you check it's not a joke? Is there an ulterior motive?' He got hold of Morrissey's management and he said 'no, Morrissey's a fan and he'd like you to be there.' So I said 'yes please.'
"The chances of me singing for 15,000 people in New York are pretty well nil for me at the moment anyway. So I thought it would be great."
Morrissey is renowned for his hatred of meat and has at times insisted on it being banned in the vicinity of some performances, even walking off stage at the smell of burgers.
But Sir Cliff, 73, appeared to underestimate Morrissey's conviction, when he said: "I like to think he might eat some meat when I arrive, but I wouldn't expect him to. So I don't think he'd expect me to be vegetarian. If I found he was offended by people eating meat then I won't eat it in front of him. But I'll have a chicken curry afterwards."
He added: " I've had nine top 30 hit singles [in the US] but I have no identification out there. All I can say is 'Thank you Patrick, or Morrissey' - I'm not quite sure how to refer to him - and I'm so grateful that he's thought of having me on the show. I'd love to play to 15,000 people in the States and now I will."
Morrissey - whose Christian name is actually Steven, although his middle name is Patrick - is playing a series of gigs in the US. American keyboard player Kristeen Young, who is reportedly best known for her "aggressive, dissonant" playing style, will also perform at both dates.
It is not the first time Morrissey has teamed up with a 1960s chart star.
In 1984 The Smiths duetted with Sandie Shaw on a new version of their debut single Hand In Glove, which made the top 30, and i n 2004 he collaborated with Nancy Sinatra to record her version of his song Let Me Kiss You.
Source: music.uk.msn.com
Added automatically
970 views