News
Sting's musical finds Broadway home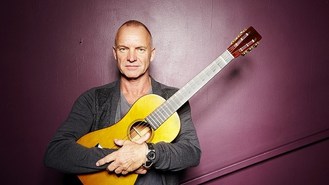 Sting's new musical The Last Ship has found a nice berth on Broadway.
Producer Jeffrey Seller said the show - inspired by singer-songwriter Sting's memories of growing up in a shipbuilding community in north-east England - will start performances on September 30 at the Neil Simon Theatre, with an official opening night on October 26.
"The words are there. The music is there. It's time to get into the room and make the play," said Seller, who has won Tony Awards for Rent, Avenue Q and In The Heights.
"We look forward to getting to work," he added.
The story centres on a man from a seafaring town who travels the world for 14 years only to return to find the shipyard's future in grave danger and his sweetheart engaged to someone else. Sting has been working on it for four years.
"People ask if it's autobiographical. The only real answer is I think it's emotionally autobiographical but it's not autobiographical. There's no rock singer in The Last Ship. But I certainly think that Sting is inspired by his youth and he's working through a lot of emotions that all of us are working with as we get older," said Seller.
The musical has a story by Red playwright John Logan and Next To Normal writer Brian Yorkey. It will be directed by Joe Mantello, who helmed Wicked and have choreography by Steven Hoggett, who did the same for Once.
Before coming to Broadway, The Last Ship will make its world premiere in the summer at Chicago's Bank of America Theatre.
It will star Michael Esper, who was on Broadway in American Idiot and The Lyons, and Rachel Tucker, an Irish singer and actress who has been in Wicked in London. The cast also includes Jimmy Nail, Aaron Lazar, Sally AnnTriplett, Collin Kelly-Sordelet and Fred Applegate.
The sets and costumes will be by Tony nominee David Zinn, the lighting design will be by Tony winner Christopher Akerlind and the sound design will be by Tony winner Brian Ronan.
Sting, a 16-time Grammy Award winner and former lead singer of The Police, last year released a new CD also called The Last Ship, which inspired the show. A concert he gave of the songs will be broadcast in the US on February 21 on PBS.
"Many of those songs are in the show, some of those songs are not in the show, and he's already written new songs that are in the show that are not on that CD," said Seller. "It's Sting's singular expression of this play but it is not the play."
Sting's foray into musical theatre comes amid a surge in singer-songwriters from the world of pop and rock aiming for the stage. Sting joins a list that includes Cyndi Lauper, Sheryl Crow, John Mellencamp, Sarah McLachlan, Dave Stewart, Tori Amos, Edie Brickell, David Byrne, Fatboy Slim, Burt Bacharach and Elvis Costello.
Source: music.uk.msn.com
Added automatically
895 views