News
Miley faces raunchy antics backlash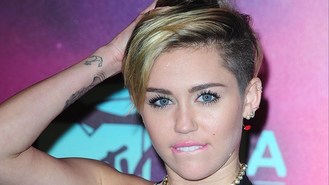 Miley Cyrus has been blasted with complaints over her raunchy antics on stage while performing on tour.
The Wrecking Ball singer has just kicked off a 59-date tour of album Bangerz, but after the first show in Vancouver she was already facing criticism, with some even calling for the rest of the tour to be scrapped and claims that arenas are threatening to pull out, according to the Daily Mirror.
Outraged parents complained about Miley's skimpy outfits, which include a sparkly leotard decorated with cannabis leaves, crotch grabbing, foam finger sucking and kneeling down in front of a Bill Clinton impersonator to sing at his groin while he twerked.
A mother of a nine-year-old girl contacted Miley's record company Interscope to say that she would not subject her child to a "porn show".
But an unrepetant Miley tweeted a photo of herself from behind in the offending leotard with most of her bottom on show, captioned: "You can't say I didn't warn you. sit back relax & enjoy the show. #bangerztour."
She added: "Save your complaints for the McDonalds drive thru when they forget the 'fries with that'."
Before the show began, she admitted to her Twitter followers that she was suffering some nerves, writing: "I don't know if it's Valentines Day or #BangerzTour but I'm most definitely having a panic attack."
Miley, whose fans include many children and young teenagers from her days as Disney star Hannah Montana, recently appeared topless in W Magazine.
Source: music.uk.msn.com
Added automatically
983 views