News
Kiss will not play at Hall of Fame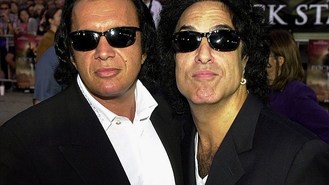 Kiss will not rock and roll all night - or at any point during the day, either - when they are inducted into the Rock and Roll Hall of Fame in April.
The 40-year-old group is unable to agree on which line-up should perform during the April 10 ceremony in New York City, and has decided not to plug in at all.
The dispute concerns whether original members Ace Frehley and Peter Criss would join Gene Simmons and Paul Stanley in a live performance, or whether the current line-up of Stanley, Simmons, Eric Singer and Tommy Thayer would play instead.
In a message on its website, Kiss said it will not perform with any lineup, calling it "an emotional situation where there is no way to please everyone".
"Our intention was to celebrate the entire history of Kiss and give credit to all members, including longtime present members Tommy Thayer and Eric Singer, and additionally Bruce Kulick and Eric Carr all who have made this band what it is, regardless of the Rock and Roll Hall Of Fame's point of view," the band wrote on its website.
"Although Kiss has moved forward far longer without them, Ace and Peter are at the very foundation of what we have built and this would all be impossible had they not been a part of it in the beginning."
The band made no mention of former guitarists Vinnie Vincent, who helped kick off the band's unmasked era, or Mark St John, who was with the band briefly in 1984 and who died in 2007.
"It is over 13 years since the original line-up has played together in make-up and we believe the memory of those times would not be enhanced," Kiss wrote on its site. "To bring this to a quick end, we have decided not to play in any line-up, and we will focus our attention on celebrating our induction into the Rock and Roll Hall Of Fame."
The festering dispute was brought to a boil when Frehley called into a US radio show on Friday night to say that Simmons and Stanley had rejected a reunion with the original four members for the induction.
"They just shot down any type of reunion with us," Frehley said during the broadcast. "It's very frustrating. It's what the fans wanted, it's what the Rock and Roll Hall of Fame wanted, and it's not gonna happen. You don't want to do something for the fans after 40 years of them supporting you?"
The band's statement said it has never refused to play with Frehley and Criss.
Criss said he wanted to let fans know there would be no reunion before they bought tickets for the induction ceremony.
"This is disgraceful, and I feel bad for the fans who were looking forward to the four of us being inducted together," he said.
Criss did not indicate whether he would attend the induction; Frehley said he is unsure whether he will be there.
Kiss began in 1973, and the original line-up played together until 1980. They reunited from 1996 to 2000, but the band has continued with replacement members wearing the Frehley and Criss make-up and costumes.
Source: music.uk.msn.com
Added automatically
951 views