News
Orange quits Take That 'brothers'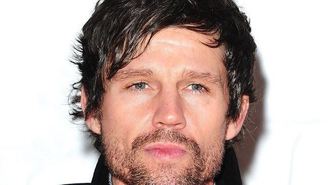 Take That star Jason Orange has revealed he has quit the group.
The 44-year-old insisted tonight there have been "no fallings out" after he told bandmates Gary Barlow, Mark Owen and Howard Donald last week that he did not want to commit to recording and promoting a new album.
In a statement, he said: "I have spent some of the best years of my life with Take That and I'd like to thank everyone who has been a part of my journey, including my band mates, who I feel are like brothers to me.
"Most especially my gratitude goes to all of the good and kind, beautiful and ever-loyal fans of the band, without whom none of this could have been possible. Thank you.'
Orange said he was "proud" of what the band had achieved since forming in 1990, including a hugely successful comeback in 2005.
"At the end of The Progress Tour I began to question whether it might be the right time for me to not continue on with Take That," he said.
"At the start of this year and with my full knowledge and blessing the guys began writing new material.
"There have been no fallings out, only a decision on my part that I no longer wish to do this.
"I know how much Mark, Gary and Howard enjoy writing and making music, and they know that they have my full support and encouragement to continue on with what is to be another chapter for the band."
In a joint statement, the remaining members of Take That - Barlow, Owen and Donald - said they "fully respect" Orange's decision.
"This is a sad day for us," they said. "Jason leaving is a huge loss both professionally and even more so personally.
"We first became aware of Jason's reservations a couple of years ago but had hoped that by giving him the desired time and space he may begin to feel differently. This has not been the case and we now have to accept and fully respect his decision which we know hasn't been an easy one.
"Jason's energy and belief in what this band could achieve has made it what it is today, and we'll forever be grateful for his enthusiasm, dedication and inspiration over the years."
Orange has followed in the footsteps of fellow ex-Take That star Robbie Williams who revealed earlier this year he would not be reuniting with the band for their next tour.
The pair were also the only members of Take That not to face accusations of tax avoidance after Barlow, Donald, Owen and their manager Jonathan Wild reportedly invested £66 million into two partnerships styled as music industry investment schemes.
Barlow finally broke months of silence on the controversy earlier this month and apologised on Twitter for the "tax stories", before telling fans the band were working on a new studio album.
Orange enjoyed massive success with Take That in the early 1990s with a string of number one hits including Back For Good, Pray and Relight My Fire.
But after the group split in February 1996, he spent nearly a decade out of the spotlight before reuniting with three of his ex-bandmates - Barlow, Owen and Donald - for Take That's Ultimate tour in 2006.
The group enjoyed more sell-out tours and best-selling albums with Beautiful World and The Circus, before Williams - who first quit the band in 1995 - returned to reunite the five original members of Take That for their last album and tour, Progress, in 2011.
Source: music.uk.msn.com
Added by AutoAdmin
490 views