News
Redfoo slams sexist music claims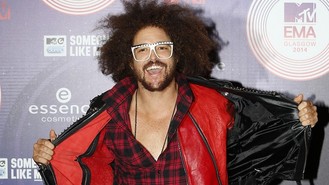 Redfoo has hit back over claims that his new song is sexist, saying that he is being "victimised" by critics.
The LMFAO star came under fire for his song Literally I Can't and its accompanying video, with an online petition calling for him to be sacked as a judge from The X Factor Australia drawing more than 12,500 signatures, according to Digital Spy.
A description of the video reads: "The #LIC sorority sisters who strictly abide by their 'Literally I Can't' mantra reluctantly show up at the #STFU frat house to show face at the hottest party on campus.
"Unable to resist what the boys have to offer, they're transformed one at a time into girls gone wild until the only one left standing is the uptight president who's forced out of the party."
Song lyrics include: "You got a big ol' butt, I can tell by the way you walking, but you annoy me because you talking," and: "Girl, I'm sipping on this drink trying to see what you got, not trying to hear what you think."
But Redfoo tweeted: "Another example of critics victimising an artist by purposely misinterpreting his/her work to support a pre-existing agenda. #LiterallyICant.
"Fact #1: The word "slut" never appears in the lyrics of #LiterallyICant. @amynelmes @TheFIXninemsn #GetYourFactsStraight #NoGreyArea.
"Fact #2: I love & respect women and feel they are the most powerful people on this planet! #LiterallyICant.
"Fact #3: @PlaynSkillz @LilJon @EnertiaMcFly & I made a comical party song to satirise the cliche #LiterallyICant. Some get it, some don't."
However, his protestations didn't stop many tweeters voicing their disgust at the song and calling for his removal from the X Factor panel.
Redfoo later posted an open letter to Facebook apologising for any offence caused, saying: "I get excited to create things that will unite all of us through laughter, dance & celebration.
"If during that process I offend anyone, I apologise from the bottom of my heart. In the future I will be more mindful of the way I present my art."
Source: www.msn.com
Added automatically
888 views