News
Amber Rose brands Kanye West a 'bully'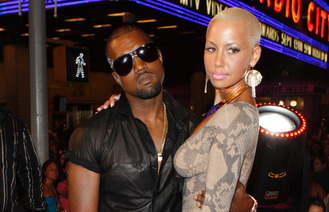 Amber Rose has branded Kanye West a "bully." The 31-year-old model, who called the rapper's wife Kim Kardashian West "a w***e" earlier this week, lashed out at her ex-boyfriend after he claimed he had to take "30 showers" after dating her before the Keeping Up with the Kardashians star would agree to go out with him.
Responding to his remarks on Twitter, she wrote: "Wait 30 showers? But Kim let RayJ nut on her.... Never mind."
She also tweeted: "@kanyewest This is my moment to let the world know who u really are and the things you've done to me."
Another tweet said: "@kanyewest after all these years I never snitched on u and I don't plan on starting now. We once loved each other so I won't do u like that."
She ended: "@kanyewest I'll leave that up to the Kartrashians to humiliate u when they're done with u (sic)."
Amber got into a war of words on Twitter with the 'New Slaves' hit-maker's sister-in-law Khloé Kardashian earlier this week after she took a swipe at her younger half-sister Kylie Jenner, 17, during an interview about rumours she's dating Tyga, 25.
The former stripper also verbally abused Kim, 34, whose sex tape with ex-boyfriend Ray J was leaked in 2007. But the blonde model, who recently split from Wiz Khalifa, now claims she has nothing against Kim and is furious with Kanye. She tweeted: "I'm always so quiet and just a cool fun girl. The funny thing is I'm all for a woman making something out of nothing."
Amber added: "Ppl make mistakes in life trust me I have. But when u bully other ppl and ur not perfect its so f**ked. I own up to every piece of my life (sic)."
Amber's comments come just one day after Kanye claimed she was just "soaking" in his fame. The former couple split in 2010 after two years of dating.
Source: www.msn.com
Added automatically
690 views