News
Taylor Swift 'is over Diplo feud'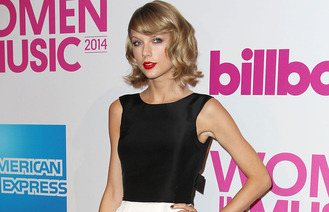 Taylor Swift was apparently happy to accept Diplo's apology.
The two music stars were left feuding after Diplo dissed Taylor on Twitter, rallying his followers to start a "Get Taylor Swift a Booty" Kickstarter campaign.
He also used to date Katy Perry, another star thought to have fallen out with 25-year-old Taylor. However all appeared to be forgiven at the Grammy Awards recently, when Diplo captured a snap of the pair looking very cosy.
"Diplo uploaded the picture of them to his Instagram before they left together to go to Sam Smith's private celebrations," an insider confided to British magazine Grazia.
"Taylor was happy to accept Diplo's apology and they really got a chance to properly talk at the party."
In a further twist, those close to the blonde popstar reveal she's actually making a romantic beeline for 36-year-old Diplo.
"Tay is coming onto Diplo hard," a source told British magazine Heat. "She's even sent him some bikini shots from her recent trip to Maui."
It seems the feud has well and truly been put to bed since last year's comments. After Diplo tweeted his idea for the Kickstarter campaign, he quickly felt the wrath of Taylor's fans. Her close friend Lorde also vented her anger at the DJ.
"It sucks for me, because now I have to not be as crazy as I am on the internet. Which totally sucks, because it's not going to be fun anymore. But the repercussions are really bad. Like, Taylor Swift fans are really crazy. They threatened to murder me and stuff. It's really bizarre, and disgusting. They're the worst people in the world," Diplo recently told US GQ magazine.
Source: www.msn.com
Added automatically
687 views