News
Katy Perry wants acoustic album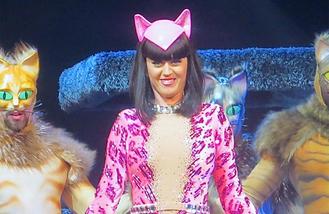 Katy Perry wants to record an acoustic album.
The 'Roar' hitmaker, who recently rekindled her relationship with singer-songwriter John Mayer, says she wants to go in a "complete opposite way" with her next album.
She said: "There have always been two records I want to make; the acoustic record and the dance record. ['One of the Boys'] was very pop-rock, more alternative influences, very No Doubt. But the last two ['Teenage Dream' and 'Prism'] were so pop heavy. 'Prism' has a more electronic influence. The next record does have to be different. I think that I'm gonna really have to reroute.
"I can't wait to create more and evolve more and be a contributor. I would never ever want to be just a celebrity. It's so gross. But if you're contributing, you're adding something to the world; you're changing someone's perspective. I'm disgusted by the fame stuff. I try to keep a distance from it."
The brunette beauty says she will never do an in-depth interview with Barbara Walters or Howard Stern again.
She explained: "Every word that comes out of my mouth has some kind of context or price tag or something that it's too much of a risk for me."
Katy believes her fans would know if she wasn't staying true to herself and that's why she enjoys communicating with them via Twitter.
She told Britain's ELLE magazine: "My Twitter is very obviously run by me. So when you follow my Twitter, there is an authenticity that you sign up for. It's not my management, it's not the record label, it's not me selling a product to you all the time, every single tweet. I think that what people like is that they get tidbits of my life. I always keep them updated on what is going on."
Source: www.msn.com
Added automatically
715 views