News
Drake reveals what turned him off about that Madonna kiss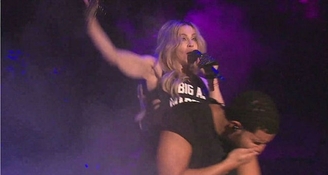 After receiving a heap of backlash on Twitter, Madonna blasted her haters on Instagram. "If you don't like me and still watch everything I do… B*tch you're a fan," the 56-year-old shared.
As you'd imagine, the Twittersphere was hot on it and quickly responded to Madonna's statement. "'If a man did to a woman, what madonna done to drake, it will be a bit rapey still," one user wrote. "Drake looks like a little 6 year old kid who's been forcibly kissed by his auntie with a moustache," another added.
But sources were quick to tell TMZ exactly what it was that bugged Drake about the kiss… her lipstick! The insiders also added the kiss was not planned, but rather a last-minute decision by Madge. You wouldn't think it was a spare of the moment kiss given how confident the mother-of-four looked as she went in for the bold french kiss.
Wearing a black tank top that read Big As Madonna," hot pants, black fishnet stockings and thigh high leather boots, she strutted over to Drake, who was sitting unaware in his chair onstage, pulled back his head and went in for the kill whilst caressing his cheek.
Drake seemed to be digging it at first, even rubbing her head as his head remained tilted back, but looked like he changed his mind half way through. The Material Girl hit maker pushed away his hand as she made it clear that she was in control of the steamy encounter. The singer then sashayed off stage, unaware that Drake looked pretty uncomfortable about the whole thing.
Source: www.msn.com
Added automatically
729 views