News
Morgan Spurlock predicts Harry Styles' departure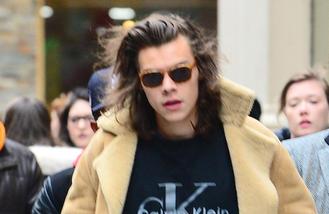 One Direction's filmmaker thinks Harry Styles will be next to leave the group.
Morgan Spurlock - who directed the band's 'One Direction: This Is Us' documentary - believes the quartet will stay together "for a little while" but has tipped the curly-haired hunk to be the next to follow in Zayn Malik's footsteps and walk away.
Asked if he thinks they can survive as a group without Zayn, Morgan said: "Obviously they already have [survived]. I think they'll stay together for a little while, for a little bit longer and then at some point Harry will leave he'll be next, and then I think Niall [Horan] and Louis [Tomlinson] and Liam [Payne], I think the three of those guys will become the new Bell Biv DeVoe [a 1990s group formed of the three remaining members of New Edition]."
And Morgan believes Zayn - who quit the group saying he wanted to lead a "normal" life but is expected to launch a solo career - was the right person to leave first as he thinks he's the "most talented" member.
He added to TMZ: "I think all those guys together were fantastic, they had something special but you cant fault Zayn for wanting to leave, people have to make their own decisions in life.
"I think Zayn is probably the most talented guy in the group, he's an incredible singer, all of them are talented singers but to make the decision to want to leave and go off on your own and chase a solo career in the midst of being as successful and as famous as you are, you can't fault someone for that."
Source: www.msn.com
Added automatically
643 views