News
Ringo Starr snubs autobiography offers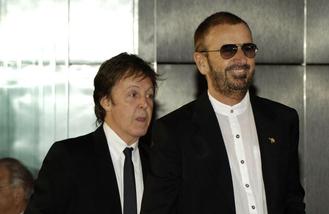 Ringo Starr refuses to write an autobiography because publishers are only interested in his career with The Beatles.
The 74-year-old drummer has been approached to tell his story in a book on numerous occasions but has always refused because he doesn't want to pen a tome that primarily focuses on his time with The Fab Four and discounts his life and work after the band split in 1970.
Instead, Ringo prefers to tell tales of his life and share memories with his fans in his songs, starting with 2008 LP 'Liverpool 8'.
In an interview with Billboard magazine, Ringo said: "I've been invited to write it (an autobiography) by several publishing houses but I don't feel they're interested in my autobiography - they're only interested in the eight years I was in The Beatles. So for some reason it came to me, starting with 'Liverpool 8', I'm going to write snippets of my life on each album. One track on each is dedicated to memories of the past, incidents of the past. I do it instead of an autobiography."
Ringo has just released a new LP, 'Postcards From Paradise', which he recorded with the touring members of his All-Starr Band and features guest appearances from musicians such as Peter Frampton and Todd Rundgren.
The LP contains more self-biographical tracks, and the music legend insists it's an old school record.
Ringo - who was joined in The Beatles by Sir Paul McCartney and the late John Lennon and George Harrison - said: "I'm still old school. I like to hang out with musicians and write songs, play them and put out records ... Since the first All-Starr Band in 1989, I wanted us all to sit around and write and record songs. I tried with every band and it never worked until now. I have kept it together for three years because, as personalities, we get on so well. I have had some All-Starr Bands where two or three people get on but there's always somebody who doesn't like anybody. With this one I lucked out."
Source: www.msn.com
Added automatically
776 views