News
Dr Dre To Donate Album Royalties To Compton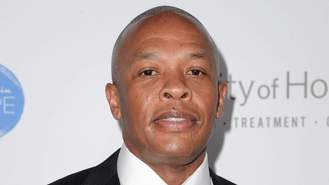 Dr Dre will donate royalties from his new album to the city of Compton for a new performing arts facility.
The rapper's first album in 16 years was released on Friday and is already getting rave reviews from his fans.
Compton: A Soundtrack by Dr Dre is inspired by the NWA biopic Straight Outta Compton which opens in cinemas on 14 August.
Dre told Zane Lowe on Beats 1 Radio that he spoke to Compton Mayor Aja Brown about ways to give back to the city.
The star, whose real name is Andre Young, said he "decided to donate all of my artist royalties from the sale of this album to help fund a new performing arts and entertainment facility for the kids in Compton".
Dre said he hopes "everybody appreciates all the hard work I put into this album".
"I'm honoured that Mr Young has decided to make a significant investment in his community," Ms Brown said in a statement.
"He clearly has a heart for Compton, especially our youth. I believe this performing arts centre will provide a pathway for creative expression, exposure and training to the myriad of industries that support arts, entertainment and technology - while providing a much-needed safe haven for our youth."
Ms Brown added that the centre would be a therapeutic outlet for youth suffering from post-traumatic stress disorder.
Dre is unlikely to need the money from the new album. He is worth at least $700m after selling Beats to Apple for $3bn in 2014.
Straight Outta Compton tells the story of the hip-hop group which was made up of Dr Dre, Ice Cube, DJ Yella, MC Ren and the late Eazy E.
NWA were considered the pioneers of gangsta rap and West Coast hip-hop but were controversial due to their lyrics about women, drugs and violence.
Source: www.msn.com
Added automatically
652 views