News
Lionel Richie claims he 'contacted his lawyers' over Adele's song 'Hello'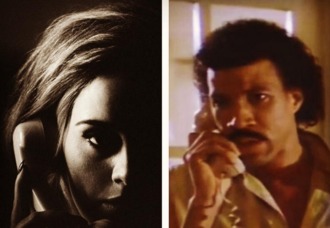 When Adele's comeback single made its way onto YouTube earlier this year, thousands of people were quick to notice that the song not only shared the same name as Lionel Ritchie's number one single "Hello" but also had a very similar intro.
Just hours later, spoof videos emerged online putting the two songs together, with one being shared by the 66-year-old singer on Instagram.
The long-running joke has hit new heights, with Ritchie jokingly revealing he called his lawyers about the song and its use of the word 'Hello'. 
"You can't use my word without my acknowledgement, thank you very much," he told The Sun, tongue firmly in cheek, when they asked about the Adele song. "I have been trying to figure out, from a legal point of view, can you own a word?"
Unsurprisingly, his lawyers said he had no ground to sue the songstress. "So far all the lawyers have told me, 'No'. I've tried, but the association is fabulous!"
Adele may be facing a court battle over one of her other songs - "Million Years Ago" - after Kurdish-Turkish singer Ahmet Kaya claimed she stole the song from him.
Her latest album - 25 - sold a million copies in just 10 days to become the UK's  fastest-selling album, beating previous record holder Be Here Now by Oasis, which took 17 days to reach seven-figure sales in 1997, the Official Charts Company said.
Source: www.msn.com
Added automatically
756 views