News
Noel Gallagher jokes with 'freeloader' fans at BBC Radio 2 concert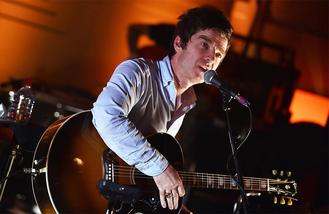 Noel Gallagher teased his fans were "freeloaders" during his acoustic set for BBC Radio 2 on Monday night (07.12.15).
The 48-year-old rocker performed an intimate show at the BBC Radio Theatre in London, and joked that the 400 strong crowd were cheap-skates because they were getting to watch him sing for free.
Taking a break to chat to the audience, he said: "So, competition winners eh? Was it a random draw or did you have to answer a question? So you didn't have to have any knowledge at all. How does that make you feel? Can't be as bad as me."
Noel was joined by his former Oasis bandmate Gem Archer - who formed the now-defunct Beady Eye with Liam Gallagher following the demise of the super-group - and he introduced the guitarist as "my former right-hand man, who is now my left-hand man".
Crouched over his guitar, sat in the middle of the stage, Noel was flanked by two guitars and backed by three saxophonists and a keyboard player.
His relaxed style and cool temperament mesmerised the eager crowd, who were on tender-hooks as the rocker paced himself through a mixture of Oasis classics and B-sides such as '(It's Good) To Be Free', 'Talk Tonight' and 'D'Yer Wanna Be A Spaceman?', 'Wonderwall' and 'Slide Away' and songs from his solo career such as 'The Death of You and Me', 'If I Had A Gun...' and 'AKA... What a Life!'.
As one fan shouted "stand up we can't see you!" Noel quipped: "I haven't got a guitar strap. If it wasn't going out on the telly I'd be calling you something other than James Blunt."
Noel closed his set with his best-loved song 'Don't Look Back In Anger' which prompted a singalong from the few hundred fans watching.
Noel Gallagher setlist:
'(It's Good) To Be Free'
'Talk Tonight'
'The Death Of You And Me'
'If I Had A Gun...'
'D'Yer Wanna Be A Spaceman?'
'Listen Up'
'Sad Song'
'The Importance of Being Idle'
'Cast No Shadow'
'Half The World Away'
'Slide Away'
'Wonderwall'
'AKA... What a Life!'
'Don't Look Back In Anger'
Source: www.msn.com
Added automatically
789 views