News
Frank Turner's angry album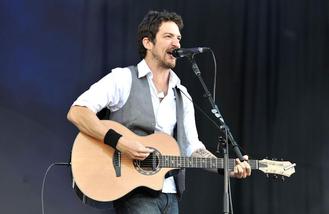 Frank Turner wanted his latest album to be "angrier" than his previous efforts.
The 'If Ever I Stray' hitmaker is proud of 'Positive Songs for Negative People' - which was released in August - and it's "defiant" theme, admitting it is more "heavy" than its predecessor, 2013's 'Tape Deck Heart'.
He told BANG Showbiz: "It's a bit heavier, a bit more punk rock. I wanted to make it a bit more in-your-face, an angrier record.
"The last record I did was about a c**p year I had and I had my first taste of castigation in the press, and the new record is about dusting yourself down, and saying, 'It's going to take more than that to kill me. I'm still here.' So it's kind of defiant but with a smile on its face."
The 34-year-old singer particularly enjoyed recording with his "spirit animal" Butch Walker and only wishes he'd met the producer sooner.
He added: "I worked with a guy called Butch Walker, an American producer, we recorded the record last December and January. I wish I'd met him 10 years ago, he is my spirit animal, he is a solid gold genius.
"Unlike pretty much every other producer I've ever worked with, he is also a songwriter and performer himself, which is how I knew about him because I'm a fan of his work. And that makes such a huge difference, but that's not disrespecting the other people I work with."
Source: www.msn.com
Added automatically
870 views