News
Hozier shocked fans with online phone post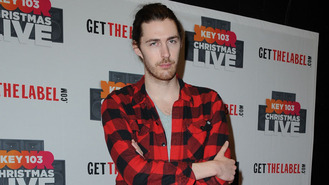 Musician Hozier got used to speaking to terrified fans after posting his cell number online, because most of them couldn't believe it was really him.
The musician celebrated the release of his self-titled 2014 record by reaching out to his fans in an unusual way. In fact, his decision was so strange he enjoyed hearing the effect it had on people.
"When my album dropped I got a 'burner' and put my number online, so people could ring for a chat," he laughed to Q magazine. "I had calls from kids walking to their psychology class, stuff like that - there were no heavy breathers, though. Most people thought it was a hoax, so they were terrified when they got through."
Hozier has a good sense of fun and he can always be relied on to take part in wild antics. This is why he once stripped off while on tour with some other musicians.
"We were in Holland in a nature park resort," he recalled. "There was thick snow, so on the last night of the tour we got out of our minds and chased the rabbits outside. Did it affect my body parts? Christ, yeah! Each man has his cross to bear when running through the snow in the morning, b**lock naked."
These days the star is a little calmer as he doesn't get very much time off. He managed to get away for a couple of days recently, but the holiday didn't go to plan.
"I had a few days off, so we flew out of Florida to the Bahamas. It rained," he laughed. "And one of the band got stung by a jellyfish within minutes of stepping into the sea."
Source: www.msn.com
Added automatically
707 views