News
Boy George pays tribute to hero David Bowie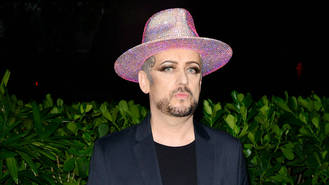 Boy George has penned a tribute to David Bowie, revealing he'd always dreaded the day he would hear the iconic singer had died.
The news came on Monday (11Jan16), when Bowie's representative confirmed he had lost his secret 18-month battle with cancer on Sunday (10Jan16). It caused a worldwide outpouring of grief, with George following in the footsteps of stars such as Mick Jagger, Paul McCartney, Madonna and Kanye West by speaking of how much he admired the late star.
"I have been a loyal fan since (the first) concert (I went to) in 1973. As a teenager growing up in Suburbia, I was very much the odd one out and Bowie was the light at the end of a very grey tunnel," he wrote for DailyMail.com.
"He validated me and made me realise I was not alone. Listening to his early songs I felt he was speaking directly to me when he sang, 'We're painting our faces and dressing thoughts from the skies, from paradise.'
"Bowie painted a mythical landscape where otherness and individuality reigned supreme.
"I always dreaded this day. I hoped he was immortal. I was sure of it. Today feels like the end of everything!"
Bowie's death came just two days after he celebrated his 69th birthday, with his last record, Blackstar, also released on Friday (08Jan16). It's claimed the album was his parting gift to the world and his way of saying goodbye.
In his tribute, George spoke of watching Bowie perform as his alter-ego Ziggy Stardust in London in 1973. George was just 12 at the time but it had a phenomenal impact on him, with the now 54-year-old star calling it a "life changing and life affirming event".
Describing himself as a Bowie "superfan", George recalled how excited he was when, during an internet talk with his hero, Bowie remembered meeting him previously. This pales in comparison to the excitement the Culture Club star felt when they had dinner with each other in 2005.
"That dinner was like a dream. We talked about EastEnders (yes, the TV show), British tea, Russian art films, new bands he loved, and Angie Bowie (the late singer's former wife)," he wrote.
"He was funny, charming, sweet, and very David Bowie.
"It's fair to say I have never been objective in regards to Bowie, I have always joked that the only qualification I left school with was 'A level Bowie'."
Source: www.msn.com
Added by AutoAdmin
544 views