News
Lenny Kravitz has keepsakes shrine in Paris bedroom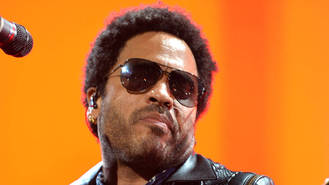 Lenny Kravitz has turned the master bedroom of his plush pad in Paris, France into a shrine to all his musical heroes and wakes up to the keepsakes he has collected for years.
The rocker has owned the four-storey townhouse, which was built as the U.S. Embassy, for the past decade and reveals the mantel in his bedroom there has become a little space where all the things that mean something to him live.
That includes things from his childhood, items he has bought at auction and even a harmonica his hero Bob Dylan gave him.
"I see it when I wake up," he tells Rolling Stone. "I've picked it up a few times and looked at it... I'll play it someday.
"I've put special things from my life on that mantel: the plastic cast of my hand that my uncle made when I was six; a ceramic mask I made in art class when I was about seven, a Cartier watch that belonged to (singer) Bobby Short; the hand written set list to Woodstock that Jimi Hendrix wrote right before doing the gig. I bought those years ago."
And when he's not staring at his keepsakes in Paris, Lenny likes to hit the streets of the city.
"In the mornings, it's about going to the boulangerie and picking out your pastries," he adds. "I love that whole provincial way of living - you've got your butcher and your cheese guy and wine guy, and they all know what you like.
"I love walking the streets, stopping in a cafe and having a little lunch and a bottle of wine and looking at people."
Source: www.msn.com
Added automatically
926 views