News
Mark Ronson covers song with fans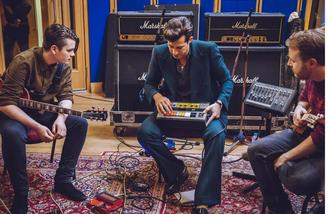 Mark Ronson has teamed up with six of his biggest fans for a new version of 'Uptown Funk'.
The producer selected vocalist Anna Shields and her duet partner, guitarist Blair Crichton, ukulele player John Atkins, cello and violin playing sisters Laura and Sarah Ayoub, and guitarist Ross Campbell to be a part of the track after viewing their covers on YouTube, but the group initially had no idea he'd be a part of the recording.
The winners were told they would be recording their version of the track for a documentary about Mark, but when they arrived at the iconic Abbey Road studios in London, they were stunned when he appeared to produce the cover, featuring them all together.
The cover, and Mark's part in it, were part of MasterCard's Priceless Surprises campaign in celebration of the BRIT Awards 2016, and the 40-year-old star had a "brilliant" time working on the "special" record and surprising his fans.
He said: "It was brilliant to bring together six unique talents and produce a new cover of my track. It's an honour that such talented people are interested in my music, and I loved working with the group - they shared such a good energy, and we created something special. It's the first time I've ever produced a cover of one of my own songs, and I really enjoyed it."
One other artist, yet to be announced, will join Mark in organising a series of surprises and secret gigs for MasterCard cardholders. Fans should visit PricelessSurprises.co.uk to be the first to find out about future Priceless Surprises with their favourite artists.
To view the Official 'Uptown Funk' Cover track visit www.youtube.com/watch?v=wMsrFzQbKhA&feature=youtu.be, while a behind-the-scenes video can be found at www.youtube.com/watch?v=4jkSBCDglwE&feature=youtu.be and an interview with Mark - who is nominated for British Male Solo Artist and British Producer of the Year at the upcoming BRIT Awards - is available to view at www.youtube.com/watch?v=cszQUAGhRjM&feature=youtu.be.
The BRIT Awards 2016 with MasterCard take place on 24 February at The O2 in London and will be exclusively broadcast on ITV.
Source: www.msn.com
Added automatically
748 views