News
Daisy Lowe 'understands Tom Cohen'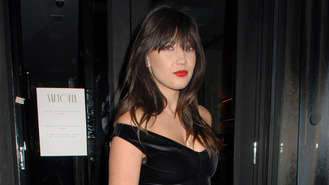 Tom Cohen and Daisy Lowe apparently share a deep connection.
The British rocker came to prominence after marrying Peaches Geldof in 2012, and together they started a family before her untimely death of an accidental heroin overdose in April 2014.
Over the past few weeks Tom has grown close to Daisy, who was good friends with Peaches, and the pair have even been spotted out hand in hand dog walking. Now those close to them say any blossoming romance is about more than just a physical attraction.
"Tom and Daisy have known each other for years, because Daisy and Peaches had been friends since their teens," a friend told Britain's Grazia magazine. "Since Peaches' death, Tom has found Daisy the easiest of his circle to talk to. She's been able to understand certain things about what Tom and his boys have gone through because she grew up in a not dissimilar atmosphere. She's been there, seen it, been affected by it herself."
Daisy is the daughter of former singer Pearl Lowe, who also battled addictions. In 2004 it came to light that Daisy's dad was Bush frontman Gavin Rossdale, after he was forced to take a paternity test.
Despite her family dramas, friends say Daisy has grown into a grounded and stable adult.
"The upshot of all this is that Daisy could have been the most off-the-rails girl in London but she's not," the insider commented. "She's kind, she's caring and she's all about family and security. She also loves the fact that, like her, Tom just craves security and normality. His priority is being a dad. He has spent a long time grieving and just focusing on his children, but he's still young. In many ways he and Daisy are made for each other."
Source: www.msn.com
Added automatically
1455 views