News
Ella Eyre: I've begun working on album 2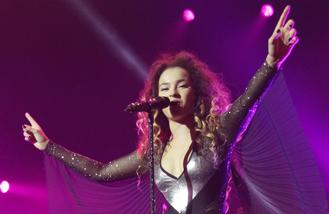 Ella Eyre has teased that her sophomore record might be released this summer.
The 'Gravity' hitmaker performed her first concert of the year at Birmingham's LG Arena on Monday (05.01.16) and before she played the show, Ella reached out to her fans on Twitter to reveal she won't be playing live until the summer months because she's "begun" laying down her second album.
She wrote: "first gig of the year tonight and the last 'til the summer..album 2 has begun, prepare for a VERY different set the next time i see ya (sic)"
The 21-year-old singer - who is dating Rixton drummer Lewi Morgan - has promised her next record will be very different to her debut 'Feline' - which peaked at number four in the UK chart - and says it will have a much more "personal" vibe to it.
She told BANG Showbiz: "I'm writing album number two. I'm just experimenting at the moment so I'm really enjoying that. But I'm going to be spending a lot more time in America next year and writing with a few writers and seeing where we end up really. I'm still in the loop but I will definitely be focusing on the new album.
"I just want to enjoy it, I know I don't want to spend too long on it but I know I want it to be very personal and I'll look forward to what I'll come up with."
Source: www.msn.com
Added by AutoAdmin
498 views