News
Meghan Trainor reveals second album is titled Thank You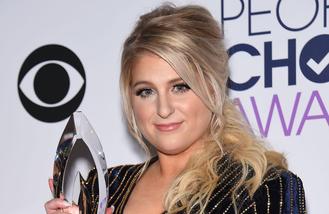 Meghan Trainor has revealed her second studio album will be called 'Thank You'.
The 22-year-old singer - whose debut LP 'Title' has sold over one million copies worldwide - is busy putting the finishing touches to her forthcoming record that includes a song also named 'Thank You', which she's dedicated to her fans and is dying to share.
She told E! News: "We're doing the final mixes this week."
"[It's] amazing to finally wrap it up, It kills you to hold these songs from the world, it really does. Especially, one of my songs, it's called 'Thank You', which the album is called, 'Thank You', and it's a song to my fans. I want them to hear it now but I have to wait."
Meanwhile, the 'Lips Are Moving' hitmaker - who took home the Favourite Album prize for 'Title' at the 2016 People's Choice Awards - says she's constantly being told her voice has "gotten better", since undergoing vocal cord surgery after suffering a vocal cord hemorrhage last summer.
And as she lays down the final mixes for 'Thank You', Meghan's debut ['Title'] has gone platinum in less than a year - reaching the one million milestone.
Source: www.msn.com
Added by AutoAdmin
446 views