News
Kanye West has no beef with LeBron: 'He's fam'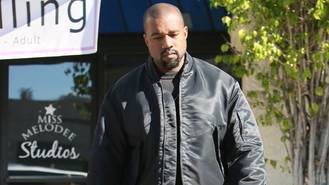 Kanye West has hit back at rumours he dissed LeBron James in new song Facts.
Not normally one to overshare on social media, Yeezy took to his Twitter account to slam those who thought he was criticising NBA star LeBron.
"The media tried to make it seem like I was downplaying LeBron on my song FACTS which I would never do, Lebron is fam bottom line," he fumed.
The furore started late last year (15), when Kanye released the song. Facts details his fallout with sports giant Nike, after the rapper claimed the brand failed to offer him decent royalties on his Air Yeezy shoe and delayed the release of his Red October design. Adidas soon offered him a reported $10 million to design for them.
In the track he sings: "Nike, Nike, treat employees just like slaves / gave LeBron a billi' not to run away."
In an interview with cleveland.com, LeBron stayed pretty neutral on the apparent diss and admitted he hadn't even heard the song. However he did vouch for Nike co-founder Phil Knight.
"We don't look upon nobody on our side, we just try to put the best athletes that we can out on the floor every night," LeBron stated.
"Phil Knight's greatest saying is 'always listen to the heart of the athlete, listen to the words of the athlete', and that's all it's about, nothing else."
Kanye has never shied away from his upset with Nike since they parted ways in 2013. During a gig at Madison Square Garden in November 2013 Kanye went on an epic rant, calling out Nike CEO Mark Parker.
"Mark Parker tried to son me. Yes. Son me because I am the sun and I will shine bright. And when I don't have as much money as a billionaire and when I don't have the factories that, that dude has over there, what I do have is my voice," he shouted.
Source: www.msn.com
Added by AutoAdmin
470 views