News
Phil Collins grateful Adele didn't slay him in the press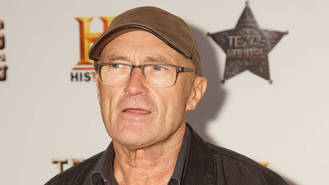 Phil Collins has thanked Adele for the "gentle way" she has described her failed collaboration with him.
The former Genesis star was one of the people the Hello singer turned to when she was making a start on the album that would become 25, but after sending him some music to work on, Adele never got back in touch.
Collins feared she'd thought better of plans to work with the Against All Odds singer, and worried she would not have nice things to say about him after he revealed they had initially planned to team up.
"She sent me a piece of music that I began working on, but then she was very difficult to find," Phil tells Billboard magazine. "She had a kid - all this stuff was happening to her, unbeknownst to me.
"I sent her an email asking, 'Am I waiting for you, or are you waiting for me?' I found out she's a bit of a ghost - (songwriter) Ryan Tedder told me that. You may not hear from her for a while. So nothing came of it.
"I was very pleased to hear that she said, 'It was too early, and I was too scared'. That's better than, 'He was terrible'. I was very grateful for her gentle way of looking at it."
It appears Adele still has plans to work with Collins in the future - a source told Britain's Mirror newspaper last year (15), "Adele put all her work on hold for a while, so it wasn't anything personal. It was just delayed. She did tell Phil that she was prioritising her personal life at the time, but now that she's back on track in work mode their track is happening once more."
Meanwhile, Collins is working on his own comeback after announcing he was putting his retirement on hold and working on a tour. The former drummer is recovering from back surgery but still hoping to hit the stage later this year (16).
On a personal front, Collins has also reunited with his ex-wife Orianne Cevey, who he divorced from in 2008.
"I'm actually back with my third wife," he confirmed to Billboard. "I haven't really talked about it. We've been together for a while, and nobody's noticed."
Source: www.msn.com
Added automatically
732 views