News
Fleur East launches Amazon Prime Stations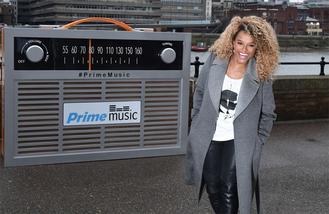 Fleur East has helped launch Amazon Prime Stations.
The 'X Factor' star announced the addition of the new service to the company's Prime Music streaming service, which allows Prime members unlimited access to hundreds of ad-free and personalised internet radio stations at no additional cost to their membership.
Another feature added to Prime Music is X-Ray Lyrics which allows customers to follow song lyrics as they listen.
Prime members can listen to dedicated artist, genre or decade stations including 80s Pop, 90s Indie, All R&B, Selena Gomez, Fleetwood Mac, Ariana Grande or even Fleur's favourite girl group Little Mix.
Steve Bernstein, Director of EU Digital Music at Amazon, said: "With Stations we've introduced another feature for Prime members to discover great music at no additional cost to their membership. Whether customers are on the move, at work or entertaining, there's no shortage of choice with hundreds of Prime Music Stations to choose from. And with the skip, thumbs up and thumbs down functions, customers can take full control of their stations and adapt them to their music tastes."
Prime Stations is available through the Amazon Music App on iOS, Android, Kindle Fire HD/HDX, Mac, PC and the web.
Amazon Prime Stations examples:
80s Pop
90s Indie
All R&B
Ariana Grande
Bastille
Best of Prime Music
Blues Rock
Beyonce
Blur
Bruno Mars
Carrie Underwood
Charli XCX
Classic Indie
Coldplay
Dance Pop
Eagles
Easy Listening
Ella Henderson
Ellie Goulding
Eurythmics
Film Scores
Fleetwood Mac
Florence + The Machine
HAIM
Imagine Dragons
Instrumental Jazz
Iron Maiden
Jason Derulo
Jessie J
John Legend
Joni Mitchell
Kaiser Chiefs
Katy Perry
Kelly Clarkson
Kylie Minogue
Laura Marling
Little Mix
Marvin Gaye
Meghan Trainor
Missy Elliott
Modern Country
My Chemical Romance
Nicki Minaj
New Age
Of Monsters and Men
Olly Murs
One Direction
OneRepublic
Opera Music
Orchestral Classical
Passenger
Pop Classical
Reggae
Rita Ora
Ryan Adams
Selena Gomez
Sia
Simon & Garfunkel
Snow Patrol
The Beatles
The Maccabees
The Rolling Stones
The Vaccines
Top Hard Rock
Train
Usher
Vocal Jazz
Walk the Moon
ZZ Top
Source: www.msn.com
Added automatically
687 views