News
Dave Stewart opens up about night of passion with Stevie Nicks in new book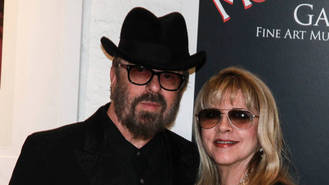 Former Eurythmics star Dave Stewart will never forget falling head over heels in love with Stevie Nicks backstage at a 1984 Los Angeles concert - and their night of passion.
The Fleetwood Mac star had just split up with Eagles rocker Joe Walsh when she decided to check out a Eurythmics show at The Wiltern Theatre - and she convinced Stewart to join her for a cocaine-fuelled party at her house.
In an exclusive excerpt from his memoir Sweet Dreams Are Made of This: A Life in Music, obtained by Billboard.com, the British singer/songwriter recalls, "It wasn't really a party: just Stevie and her singers being very speedy, laughing and talking.
"The house seemed enormous to me, so I wandered around, and when I came back to the living room, they had all disappeared into a bathroom for what seemed like hours. Actually it was hours. At around three in the morning, I ended up saying to myself, 'OK, I'm really tired now and I have no idea where I am or which hotel Annie and the band are staying in'.
"I just went to bed in one of the four bedrooms upstairs. I woke up at about 5am to the sound of doors rustling open and in the half-light saw Stevie opening and closing closets, as if it was the middle of the afternoon. Obviously they were all still wide awake, aided, I imagine, by what we in England call 'marching powder'."
Stevie ended up in bed with Dave, he claims, and they made love twice. He adds, "It was all very good-humored and sweet, but also romantic in a rock 'n' roll kind of way."
Nicks asked the pop star to leave the following morning, explaining, "someone might have been coming around to collect their clothes, and things could get tricky".
Clearly, the sexual relationship quickly turned friendly as Nicks and Stewart went on to worked together on the hit song Don't Come Around Here No More before it was offered to Tom Petty, and Dave went on to produce the Fleetwood Mac star's 2011 album In Your Dreams.
Source: www.msn.com
Added automatically
734 views