News
Ricky Martin to receive star on Puerto Rican Walk of Fame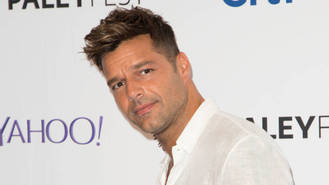 Pop star Ricky Martin is set to be honoured in his native Puerto Rico with a star on the country's Walk of Fame.
The Livin' La Vida Loca singer will unveil the prestigious marker in his hometown of San Juan on 3 February (16), and he will be just one of the 40 Puerto Rican celebrities local officials plan to honour over the next few years.
"We continue paying homage to those figures that have given name to our land," Walk of Fame of Puerto Rico chairman Santiago Villar says in a statement. "We are really pleased that Ricky Martin can give continuity to this project which, I believe, can continue until we fulfil our objective of the first phase, which consists of the unveiling of 40 stars."
Among those who have already unveiled their stars are singer Chayanne and actors Jose Ferrer, Roselyn Sanchez and Miriam Colon.
Martin will receive the honour days before he kicks off the next leg of his One World tour at the Coliseum in San Juan on 12 February (16).
Martin is the father of twin sons Mateo and Valentino, who he welcomed in 2008 after the children were born via surrogate.
In 2015 Puerto Rico abolished laws preventing same-sex marriage and later on that year, a gay couple adopted a child there - the first adoption of this kind to have taken place in Puerto Rico's history.
Martin, who is openly homosexual, expressed his pride over the monumental strides the Puerto Rican government took to ensure the civil rights of lesbian, gay, bisexual and transgender (LGBT) were protected.
"My thanks to Governor Alejandro Garcia Padilla for demonstrating that he is a leader who is not afraid of the challenges of the present," he wrote in a statement addressing the Puerto Rican gay couple's adoption. "His support for the determination of the Boston court on marriage equality does justice to equality. My appreciation to senators and representatives and my sisters and brothers who joined this struggle for equality and human rights.
"Today is a great day for my island, my heart beats fast in my chest. How proud I am to live in a country of equality. I love you Puerto Rico."
Source: www.msn.com
Added automatically
764 views