News
Sting recalls special memory of David Bowie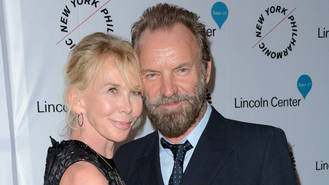 Sting has released a heartfelt tribute to his friend David Bowie as part of a statement about the rocker's death.
The former The Police star, 64, who is five years younger than Bowie, recalled a cherished memory of the time he and his wife Trudie Styler spent with the Let's Dance singer, admitting he's still touched by the magic moment.
"The first time Trudie and I met David was during the Serious Moonlight Tour somewhere in the U.S.," Sting writes. "We were watching the show from the side of the stage, Trudie heavily pregnant with our daughter Mickey.
"David bounded over to us between songs, kissed Trudie's bump and asked when she was due. 'January,' she said, somewhat taken aback. 'Ah, a Capricorn like me!' David told us with that irresistible smile of his. 'I've got to get back, I'll see you later!' he said, running on stage just in time to catch the first line of 'Let's Dance'.
"We were totally captivated by his energetic charm, his extraordinary music, his art and his unique spirit, and we felt as though he'd actually blessed our baby! That was over 30 years ago. We've never forgotten it; we will never forget him."
Sting's tribute, given to People magazine, is the latest of many pouring in from Bowie's celebrity fans, friends and collaborators. Phil Collins, Paul McCartney, Mick Jagger, Marilyn Manson, and Madonna are among the music superstars who have penned heartfelt notes and statements about Bowie's passing.
The rocker lost his battle with cancer on Sunday (10Jan16).
Source: www.msn.com
Added automatically
750 views