News
Major Lazer set for history-making Havana gig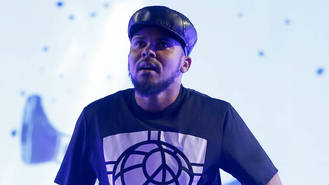 Major Lazer are set to become one of the first big U.S. acts to perform in Cuba since diplomatic ties were restored between the two nations last year (15).
Diplo's electronic/dancehall trio will play a free show at the Tribuna Jose Marti, a stone's throw from the U.S. Embassy in Havana on 6 March (16).
Tens of thousands of music fans are expected to flock to the historic event, which is being presented by the Musicabana Foundation.
"For as long as I can remember, Cuba has played an influential role on my love of music," Diplo said in a statement. "Cuba has such a powerful cultural impact all over the world and for me, especially growing up in Florida, it became one of the biggest cultural centres for music to evolve from.
"I was lucky enough to visit Cuba a few years back with my friends Calle 13 and during my four days there, my mind was blown by the people, depth of culture and their way of life. Going back to perform in 2016 and to be a part of the culture once again is a huge blessing and I couldn't be more honoured to bring the Major Lazer project there."
Major Lazer, which is comprised of Diplo, Jillionaire and Walshy Fire, has been active on the music scene since 2008. The act has become so popular around the world, an animated television show called Major Lazer was made about them, with the programme debuting on FXX channel last year (15).
Source: www.msn.com
Added automatically
769 views