News
Iggy Pop & Elton John add tributes to David Bowie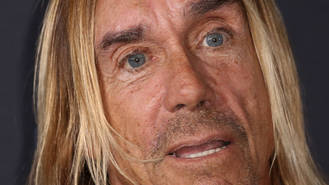 David Bowie's superstar pals Iggy Pop and Elton John have offered up their heartfelt tributes to the late rocker, who lost his battle with cancer on Sunday (10Jan16).
The music world was stunned by the news of the singer/songwriter's death and many of his closest friends, peers and collaborators have poured out tributes since the news broke on Monday (11Jan16).
And now Iggy and Elton have added their names to the list, with the punk icon claiming Bowie resurrected his career and the Rocket Man star calling him "innovative" and "boundary-changing".
"He resurrected me," Iggy Pop told the New York Times. "The friendship was basically that this guy salvaged me from certain professional and maybe personal annihilation - simple as that."
Calling Bowie "more of a benefactor than a friend", the former Stooges frontman reveals the late rocker was instrumental in reuniting the punk act, who went on to record classic album Raw Power. Iggy also claims Bowie came to the rescue again in 1976 when the punk star found himself battling drug issues and briefly homeless.
Bowie took Iggy on tour with him and then produced his first two solo albums, The Idiot and Lust For Life.
Meanwhile, Elton took a moment during the taping of a SiriusXM Town Hall special at the Wiltern in Los Angeles on Tuesday (12Jan16) to remember his late pal.
"There's been so many incredible words written about him in the last couple of days," John said. "I just said to (my husband) David (Furnish) that it's so wonderful. We all know how inspiring he is. We all know that his music stands. We don't have to say anything about the music because it speaks for itself.
"He was innovative, he was boundary-changing and he danced to his own tune, which in any artist is really rare."
"What I loved about him towards the end was his incredible privacy during what must have been 10 years of incredible bad luck battling with illnesses, heart attacks, cancer, whatever," Elton added. "He kept it private in an age where everyone knows everything about everything. He kept it to himself.
"He made two albums without anybody knowing he was making them. He had, obviously, (been) treated for his illnesses without anyone knowing or anyone saying anything. And that is the mystique of the man, because we know David Bowie the figure, the singer, the outrageous performer. But actually, we don't know anything about him. And that's the way it should be in music and should be in any art form whatsoever."
Source: www.msn.com
Added automatically
747 views