News
Nick Carter arrested in Florida - report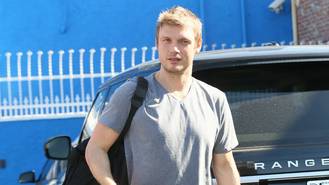 Nick Carter has reportedly been arrested after being involved in a bar brawl.
TMZ reports the former Backstreet Boys star was taken into custody by police at the Hog's Breath Saloon in Key West, Florida on Wednesday (13Jan16) night.
Although very little information has surfaced about the alleged incident, apparently he was implicated as participating in some kind of skirmish inside the bar.
Carter has been in trouble with the law before, as he was arrested in 2002 at a nightclub and in 2005 he was apprehended by authorities for driving under the influence (DUI).
Carter has previously been open about his struggle with alcohol addiction and drug abuse.
"I began drinking heavily in my teens and then moved on to drugs at 18 or 19, starting with marijuana and moving up to cocaine, ecstasy, and prescription painkillers among other substances," he wrote in his autobiography Facing the Music and Living to Talk About It.
Carter admitted his drinking and drugging became so bad, his career with the Backstreet Boys was in jeopardy.
"Kevin (Richardson) and the other BSB members saw me drinking and getting into trouble and all they could do was shake their heads," he wrote. "The guys warned me many times that my partying was out of control and that I was headed for serious trouble."
Although Carter eventually left the drugs behind, he admitted to FOX411 in 2013 he still struggles to avoid alcohol.
"This is the thing: I am completely 100 percent drug free," he said. "I have, on occasion, been having drinks. The thing about it is, I still realise that it's an issue, and it's still a problem for me. It's something that's not easy. I still have to go to therapy. I still have to get to the bottom of the reason why I have resorted to alcohol.
"I'll go for a couple of months without a drink, and then I'll drink. But for the most part it's a struggle and I'm winning the battle and trying to understand what causes someone to fall back on alcohol, something that's been in my life for a very long time."
Source: www.msn.com
Added automatically
1089 views