News
Selena Gomez gearing up for emotional new tour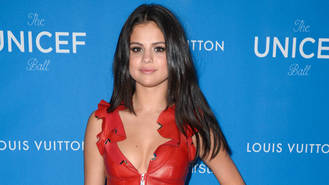 Pop star Selena Gomez has warned fans her new tour will be really emotional for her after a lupus diagnosis forced her to cancel her last trek.
The 23-year-old will kick off her Revival tour on 6 May (16), and admits she can't wait to get started.
"I'm so excited - it's going to be big," she told Entertainment Tonight. "I haven't toured in two years. It's going to be really emotional. I want it to be real, and I want it to feel like they're (fans) a part of the experience with me."
Selena's last series of shows were part of her Stars Dance Tour in 2013 and 2014, but a number of dates were cancelled for "personal issues".
The singer entered rehab a few weeks after the cancellation, prompting her representative to deny suggestions Selena had a substance abuse problem. She only revealed the real reason behind the voluntary rehab stay in October (15).
"I was diagnosed with lupus, and I've been through chemotherapy," she told Billboard. "That's what my break was really about. I could've had a stroke, I wanted so badly to say, 'You guys have no idea. I'm in chemotherapy... I locked myself away until I was confident and comfortable again."
Now Selena has her health back, she is excited to hit the road again and perform tracks from her hit album, Revival.
The tour is set to begin in Las Vegas, Nevada at Mandalay Bay Events Center, and will conclude on 8 July (16) at the Staples Center in Los Angeles.
Selena is also planning to take the show overseas later in 2016, although no dates have been officially announced yet.
Source: www.msn.com
Added automatically
749 views