News
Keith Richards: 'Snorting dad felt right'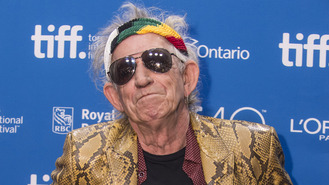 Keith Richards snorted his dad's ashes because his father always knew he liked cocaine.
The snorting story has become part of rock and roll history, and Keith doesn't shy away from it when asked to recount the tale. As a youngster The Rolling Stones legend had a strained relationship with his father Herbert, and the pair didn't talk for nearly 20 years. However, by the time Herbert passed they'd grown close.
"I had him in a box in England," he told America's GQ magazine. "I bought this little oak sapling, my idea being that he was gonna fertilise the tree, but when I pulled the top off of the box, wafts of Dad landed on the table. And my dad knows I'd always liked my cocaine, a snort here and there. So I just (mimes snorting) and had a line of dad."
His own paternal relationship may have been tough at times, but 72-year-old Keith has made sure he's always been there for his children. His oldest offspring, son Marlon, 46, had to deal with a lot as a youngster though, growing up on the road with his rocker dad.
"Of course it was hard on him, growing up like Gypsies, outlaws, nomads," Keith sighed. "No education. On the road.
"It's amazing what kids can adapt to. It all comes out in the wash. And anyway, we didn't really do anything that wrong. I mean, he could have grown up the son of health-nut freaks."
Source: www.msn.com
Added automatically
642 views