News
Chris Brown under investigation for allegedly assaulting woman in Las Vegas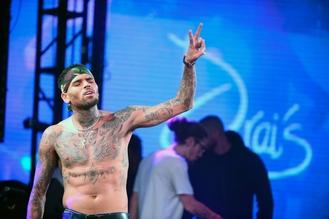 Singer Chris Brown is under investigation by the Las Vegas police for allegedly assaulting a woman who attended a party with him. The incident is reported to have taken place after the popular R&B singer's performance on Friday night (1 January) at a club in the city.
The Las Vegas police told TMZ.com that they were investigating the incident and Brown was the suspect.
The alleged victim, who was at a party at the Palms Casino Resort, told TMZ that she managed to take her cellphone with her to the party without the security noticing it. When Brown saw her taking a picture of him, he allegedly yelled at her, punched her in the right eye and took away the cellphone.
When police went to the hotel to investigate the incident, Brown had already left. The police, who said the woman suffered minor injuries, added they were yet to hear from Brown on the matter.
Nicole Perna, spokeswoman for the singer, refuted the charges. She told the Washington Times: "The woman was escorted out of the private after party at the Palms Casino Resort for being disruptive and out of control. Once she was in the hallway, while waiting for Chris Brown's security to bring out her phone, she had a total meltdown — throwing her purse to the ground and claiming that she 'could buy everyone in the hotel' — as witnessed by numerous people waiting to get into the party. The Palms Casino Resort security also saw her wild behaviour via hotel security cameras and immediately came up to the hallway to escort her out of the hotel."
Seven years ago, Brown was arrested for beating up her then girlfriend, Rihanna, on the eve of the Grammy awards. He was sentenced to five years' probation, and after some brushes with the law, his probation was lifted nearly a year ago. More recently, he had to cancel a tour of Australia and New Zealand as he was denied a visa due to the incident.
Source: www.msn.com
Added automatically
639 views