News
Lil Wayne storms off stage in Italy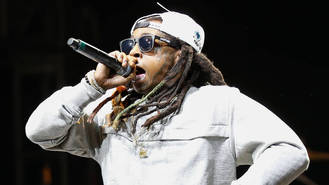 Lil Wayne stormed off during a concert in Italy after the crowd failed to get behind his performance, according to a report.
The rapper was in Milan to perform at men's fashion week, and was midway through his gig at Philipp Plein's show on Saturday (16Jan16) when problems began.
While singing his hit John, the rapper shouts to the crowd, "Put your hands up!" Only a handful of people put their hands in the air, prompting a frustrated Lil Wayne to shout, "Are you serious?"
In the video obtained by editors at TMZ.com, Lil Wayne is then seen rapping on top of a raised platform near the orchestra. He suddenly stops, throws his microphone into the air, jumps down from the podium, and walks off stage.
A representative for the rapper told TMZ.com that he didn't walk off stage because of the crowd - he was frustrated because the venue experienced technical difficulties during the sold-out show, and there were problems with his microphone.
His Dedication Tour is due to start on 21 January (16) in Texas, but it looks like he'll need time to recover as his posted a cryptic message on Twitter.com suggesting that he's ill.
The rapper simply posted two emojis - one with a thermometer in its mouth, and one with a bandage on its head - on Saturday (16Jan16). It is unknown if the mystery illness will affect his tour.
Source: www.msn.com
Added automatically
741 views