News
Sir Elton John scaling back on gigs to be a dad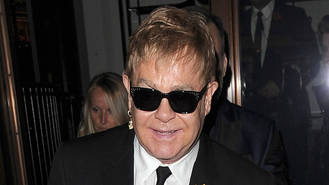 Sir Elton John is planning to scale back on his touring so he can be the best dad to his boys.
The rocker has two sons with his husband David Furnish and he hates being away from his family when he's on the road, so to spend more time at home, the Bennie and the Jets singer is cutting back on gigs.
"It's all based around the half terms now," Elton told the BBC, "and Zachary has started school; he started in September, half term has just finished. He is back at school now.
"He came to Toronto, he came to L.A., New York and Las Vegas, and I saw him there. They love travelling, they are used to it because they travelled when they were babies. But, yes, it is all based around half terms now.
"I am going away to Japan and Australia and various places for, like, five weeks and it is going to be very hard; I have never been away from them for that long. I will never be away from them for as long again.
"They know what I do, they understand it, but while I'm away David will be here and he will be parenting and they will always have somebody to read them a story at 6.30 at night every night."
And the Rocket Man star admits life as a parent is more exciting than he ever imagined, adding, "I love doing the school run. Yesterday I picked him (Zachary) up at 3.10pm and I love that; it is part of my life now."
Source: www.msn.com
Added by AutoAdmin
491 views