News
Coroner: 'Rene Angelil died of natural causes after cancer fight'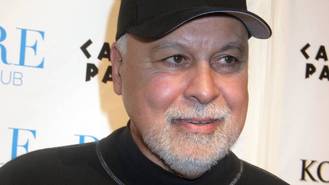 Officials at the Clark County Office of the Coroner have ruled Celine Dion's husband and former manager, Rene Angelil, died of natural causes after a long battle with cancer.
The Canadian svengali passed away at his home in Las Vegas on Thursday (14Jan16), just two days before his 74th birthday.
"Mr. Angelil died of throat cancer at his home in Henderson while under the care of a physician," the Clark County coroner, John Fudenberg, said in a statement. "We have determined Mr. Angelil's death was due to natural causes. No further investigation into his death is expected.
"Our condolences go out to Mr. Angelil's family and friends during this difficult time for them."
Celine has also confirmed the sad news via Twitter, writing, "Rene Angelil passed away this morning at his home in Las Vegas after a long and courageous battle against cancer."
He stepped down as his wife's manager last year (15) to focus on his cancer battle, but encouraged her to return to the stage in Las Vegas and continue her residency at Caesar's Palace.
She stepped back into the spotlight in August (15), after a year away from performing to care for her ailing husband.
Ahead of the gig, Dion revealed her experience in caring for Angelil had given new meaning to her famous repertoire of love songs, telling reporters at a press conference, "I've been singing them for so long... but now I mean it; to me they'll become different songs. The words will come alive more than ever before."
After the show, Dion seemed moved by her return, writing on Twitter.com, "Thank you for all your love, Tonight was not a new day, tonight was not really a new show. Tonight was a new beginning."
In light of her husband's passing, Dion has cancelled her 16 January and 17 January (16) performances at Caesar's Palace. She is expected to return to the Las Vegas stage on 23 February (16).
Source: www.msn.com
Added automatically
671 views