News
Bryan Adams gives Bieber advice: 'Have fun!'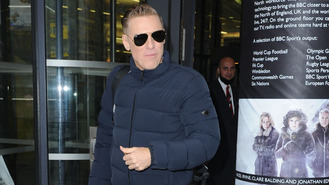 Bryan Adams would advise Justin Bieber to have fun and not take himself too seriously.
21-year-old singer Justin has turned his life around after several run-ins with the law, impressing with new album Purpose.
Bryan, 56, and Justin may both be from Canada, but aren't two stars you'd normally expect to perform together. However, a random twist of fate saw them duet on Justin's hit Baby in Berlin, Germany, last year (15). Now Bryan has taken some time to reflect on the advice he'd pass on to the young musician.
"Have fun! Enjoy it!" he enthused to berliner-zeitung.de. "Don't take it all too seriously! That's the advice I also give my own kids by the way. Of course you have to be pretty strict as a dad. But luckily my children are still pretty young."
Bryan still looks back at the duet with fondness, marvelling at the fact he hadn't met his fellow Canadian before that moment. He was thrilled when his offer to sing with the star went down so well with Justin.
"He was very enthusiastic, so I suggested we listen to a few of his songs on the internet and pick one," Bryan smiled.
"Baby was the only one of his songs I kind of knew. I didn't find it embarrassing. I didn't have much time to learn the song, but luckily it turned out to be quite easy."
It's no surprise Bryan wasn't too familiar with Justin's songs, as his kids are still a little young to be Beliebers. He and Alicia Grimaldi have daughters Mirabella, four, and Lula, two, together.
"At 51, I was late to fatherhood," he said. "It's what I wanted, I can enjoy it more now. I have the life experience and am able to get my priorities straight."
Source: www.msn.com
Added automatically
708 views