News
Nicki Minaj feuds with reality TV star Farrah Abraham on Twitter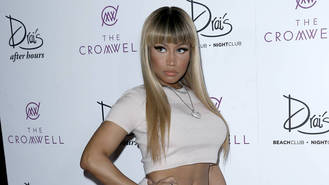 Rapper Nicki Minaj has exchanged expletive-laden insults over social media with reality television star Farrah Abraham.
The pair became engaged in a war of words on Twitter after the Bang Bang musician slammed the TV personality, who stars on MTV reality programme Teen Mom, for her behaviour on the show.
Minaj tweeted to Abraham on Sunday (10Jan16), writing: "Your mother didn't open her legs and have that child. Be happy she's helping! Stop talking to her like that on tv u lil c**t @F1abraham".
The rapper then stressed her point, tweeting: "In your case #BIGC***".
Minaj then passed judgement on Abraham for filming porn movies and the pop star also brought Abraham's six-year-old daughter Sophia into the equation, writing: "she (Sophia) was like b**ch go do some porn & leave gramma alone (sic)".
Teen Mom centres on young women who become pregnant and have children before graduating from high school. Some stars of the show experience disagreements with their own mothers in scenes featured on the programme. Although Abraham has certainly hashed it out with her mom in several episodes, she doesn't believe Minaj has a leg to stand on when it comes to insulting her.
"Cause your (sic) a parent right?" Abraham questioned in a retort on Twitter. "Your videos look like porn Horrible good luck being negative #Godbless busy making TV".
The 24-year-old television personality retweeted some of her own fans' posts that called attention to the fact Minaj's brother Jelani Maraj was arrested in December (15) after being accused of raping a 12-year-old girl.
Abraham also set the record straight in regards to the true nature of her relationship with mother Debra Danielson.
"To be clear my mom doesn't help me I help her," Abraham wrote. "I love & care for my mom. Stop disgusting talk @NICKIMINAJ
"I slay I have no time for rerun watching ignorant minions like @NICKIMINAJ worry about your family #Watchandlearn".
Source: www.msn.com
Added automatically
664 views