News
Stooshe to support mystery megastar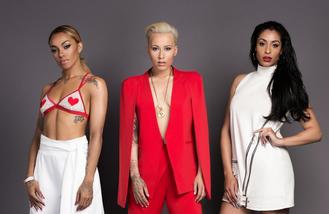 Stooshe are in talks to support a "major" male artist who they are not allowed to name.
The girl group - consisting of Karis Anderson, Alexandra Buggs and Courtney Rumbold - are set to return with their second album this year and are already planning on touring with a mystery "massive" artist.
Karis exclusively told BANG Showbiz: "There is a massive name that we can't name. Fingers crossed it happens. If it does it will be major like, major. A certain male."
Meanwhile, the girls have been to songwriting camp getting songs together for their forthcoming record.
The 'Lock Down' trio have been out of the spotlight since 2012, but have been busy behind the scenes writing and managing their own career since splitting from their label in 2013 and are currently putting the finishing touches to the record
Asked if the album is finished, Karis said: "Nearly. It was half way finished and we've just had a writing camp and got a whole influx of new songs that we've written. So now we are like we need to do more recording and get it all done. We are going to have a lot of choices to choose from, which with our last album we didn't have."
The follow-up to their debut 'London with the Lights On' is expected to drop this summer.
Source: www.msn.com
Added automatically
654 views