News
Celine Dion too grief-stricken to attend brother's funeral - report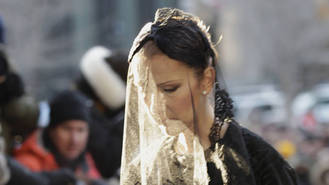 Celine Dion was reportedly too grief-stricken to attend her brother Daniel's funeral on Monday (25Jan16), just two days after she said goodbye to her husband.
The 47-year-old publicly mourned the loss of her beloved spouse Rene Angelil on Friday (22Jan16) with the couple's three children by her side, and while she was part of her sibling's memorial service a day later (24Jan16), sources tell Entertainment Tonight grief took its toll on the star, and she was forced to skip another day of mourning in front of the media and fans.
Instead, the Think Twice singer paid her last respects to her 59-year-old brother at the memorial service, held in Salon Charles Rajotte in Repentigny.
Daniel, one of Celine's 13 siblings, lost his battle with cancer on 16 January (16), just two days after Rene, 73, died of the same disease.
Daniel's funeral took place in Charlemagne, Quebec, where the family was raised, while Rene was laid to rest on Friday at the Notre-Dame Basilica in Montreal, where Celine and Rene were married in 1994.
Celine held hands with the couple's twin boys Nelson and Eddy, five, throughout the service, while her eldest son, 14-year-old Rene-Charles, read a moving eulogy to his father.
"Fifteen years is not a long time for a son to get to know his father," he began, before trying to lighten the mood as he talked about sharing his late dad's passion for golf, poker and "smoked meats".
"You left me now with enough good memories of you to share with my younger brothers," he added. "I'll make sure to pass on what I've learned from you.You are a tough act to follow... but I promise you here that we're all going to live up to your standards."
Source: www.msn.com
Added automatically
703 views