News
Alicia Keys: AIDS changed me forever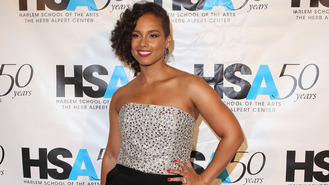 Singer Alicia Keys "was never the same" after she was exposed to people dying of AIDS in Africa.
The Girl on Fire Singer is co-founder of Keep a Child Alive (KCA), a philanthropic organisation dedicated to providing healthcare to poor patients infected with HIV or AIDS who can't afford to buy medication.
The charity was launched in 2003 and Alicia, 36, credits KCA co-creator Leigh Blake with opening her eyes to the problem.
"MTV invited me to South Africa to do a programme called Staying Alive, on which they talked about the AIDS issue," she recalled to People magazine. "Leigh and I visited clinics where women were either pregnant or had just given birth to babies with HIV or AIDS. At the time, a lot of women didn't realise that if you are positive and you breastfeed your baby, your baby will contract it. The mums just wanted medicine to keep them alive.
"That was the first time as a 20 year old that I was aware of the injustice. I thought, 'How can something be available, but you can't have it because you're poor?' I just felt like that was a death sentence. That's what outraged me and motivated me. When I came back, I was never the same."
Alicia hosts the KCA's Black Ball fundraising event annually and in 2014 she raised $2.4 million for the charity through the lavish affair.
She finds providing sick people with the medicine they need to survive very fulfilling.
"Even from when we started, when I was just 20 years old to now, we've been able to service 300,000 people," she said. "That's not just me. I'm part of it, but so is everybody who donated any amount of money; anybody who did a lemonade drive for their school; any college chapters that let their school know this is important. That's an important message, too; it's not just all horror stories.
"It's important to talk to our kids about having compassion and not ostracising people who are infected or affected by AIDS."
Source: www.msn.com
Added automatically
707 views