News
Celine Dion greets hundreds of mourners at late husband's wake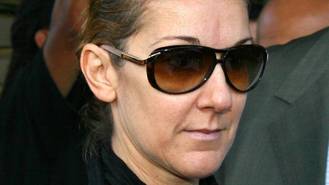 Celine Dion greeted hundreds of mourners who paid their respects to her late husband Rene Angelil in Montreal, Canada on Thursday (21Jan16).
The singer's longtime partner and manager passed away last week (ends18Jan16) following a battle with cancer, and the day before his funeral, Dion attended his public wake at the Notre-Dame Basilica, the same church where she and Rene exchanged vows in 1994 and baptized their first child, 14-year-old son Rene-Charles.
According to Canada's The Toronto Star newspaper, Dion stood next to her husband's open casket as she greeted friends, family and Quebec political and cultural figures, who lined up in the cold to share their condolences. She was joined by Angelil's adult sons Patrick and Jean-Pierre from a previous marriage in the receiving line, as well as Rene-Charles for part of the viewing.
Mourners received a programme with a photo of Angelil on the front, along with a quote from Dion which reads: "I understood that my career was in a way his masterpiece, his song, his symphony. The idea of leaving it unfinished would have hurt him terribly. I realized that if he ever left us, I would have to continue without him, for him."
On Friday (22Jan16), Dion will return to the church for his funeral, which will be officiated by the Archbishop of Montreal and will also be streamed online for fans around the world to view, much like the wake on Thursday.
Celine took to Twitter on Thursday (21Jan16) and invited fans from around the world to take part in her late husband's funeral, writing, "From anywhere across the globe, it will be possible to follow Rene Angelil's state funeral online tomorrow."
She added a link to a website in his honour.
The service will also be televised on three Canadian networks.
Meanwhile, Quebec's Premier, Philippe Couillard, has declared the ceremony a national funeral for Montreal-born Rene, and the flag at the Quebec National Assembly will fly at half-mast on Friday.
A memorial service is also planned for 3 February (16) at Las Vegas' Colosseum at Caesars Palace, where Dion has performed a residency since 2011.
Angelil died two days before the pop star's brother Daniel lost his battle with cancer. He will be buried in Montreal on Saturday (23Jan16).
Source: www.msn.com
Added automatically
735 views