News
Chris Martin and Annabelle Wallis 'romance cooled'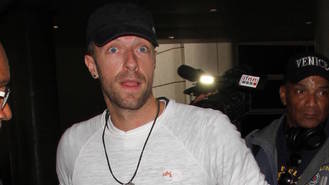 Chris Martin and Annabelle Wallis's romance has allegedly cooled.
The Coldplay star and actress Annabelle were first linked in the summer of 2015, not long after Chris had reportedly parted ways with Oscar-winner Jennifer Lawrence. While Chris and Annabelle put on a loved up display, even dancing together on the streets of Paris, the relationship is said to have stalled recently.
"At the moment they're on a break - indefinitely," an insider revealed to Britain's Grazia magazine. "At first Chris seemed head over heels visiting her on the set of her projects, and inviting her to sing on his album. But he soon seemed to lose interest, and became hard to pin down. Annabelle felt insecure and began to worry she'd been 'Martined' (in reference to Chris' surname)."
Many believe Hunger Games star Jennifer was also 'Martined' after she told interviewers: "Guys are so mean to me".
Another area of concern in the Annabelle union could be Chris' continued closeness to his ex-wife Gwyneth Paltrow. Despite splitting in March 2014, in a move they dubbed a "conscious uncoupling", the pair remain extremely close. They also co-raise children Apple, 11, and nine-year-old Moses.
"It takes a lot to date Chris, knowing Gwyneth will always come first," the source commented. "For now it seems he requires more patience than Annabelle's prepared to give."
Any alleged relationship problems may not get Chris too down though, as on Monday (18Jan16) it was revealed Coldplay are the recipients of the Godlike Genius Award at the NME Awards 2016 with Austin, Texas. The bash takes place on February 17 (16) at O2 Academy, Brixton, London.
"We're extremely grateful to the NME for giving us this award," Chris beamed. "It's a huge honour and it means everything to us as Coldplay would be nothing without the NME. Appearing in the magazine for the first time in 1998 - in the smallest font - was the biggest thing that ever happened to us, and their love and support changed our world. Thank you so much NME."
Source: www.msn.com
Added automatically
753 views