News
Paul McCartney performs Love Me Do for first time since 1964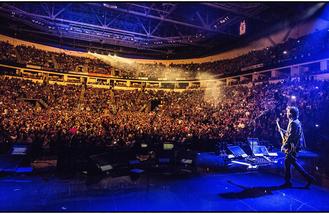 Sir Paul McCartney performed The Beatles classic 'Love Me Do' for the first time in 52 years on Wednesday night (13.04.16).
The 73-year-old rocker kicked off his solo 'One On One' world tour in Fresno, California, where he performed a set list of 38 songs from his career spanning more than five decades including songs from his time with The Beatles and his most recent collaboration with Rihanna and Kanye West, 'FourFiveSeconds'.
Fans were also treated to the music legend's first live solo performance of 'A Hard Day's Night', which was last performed by The Beatles in 1965.
As well as a track from his time with one of his first musical groups The Quarrymen called 'In Spite Of All The Danger'.
The 'One On One' tour will continue throughout the US this month before heading to South America in May and Europe in June.
Aside from the tour McCartney recently announced details of his new LP titled 'Pure McCartney, which will be released on June 10.
Talking about the forthcoming release, he said: "Me and my team came up with the idea of putting together a collection of my recordings with nothing else in mind other than having something fun to listen to. Maybe it's to be enjoyed on a long car journey or an evening at home or at a party with friends? So we got our heads together and came up with these diverse playlists from various periods of my long and winding career.
"The word 'career' is a bit misleading because to me it has been more like a musical adventure than a proper job. It pleases me, and often amazes me, that I've been involved in the writing and recording of so many songs, each of them so different from the others."
The full 'One On One' set list was as follows:
01. 'A Hard Day's Night'
02. 'Save Us'
03. 'Can't Buy Me Love'
04. 'Letting Go'
05. 'Temporary Secretary'
06. 'Let me Roll It'
07. 'I've Got a Feeling'
08. 'My Valentine'
09. 'Nineteen Hundred and Eighty-Five'
10. 'Here, There and Everywhere'
11. 'Maybe I'm Amazed'
12. 'We Can Work It Out'
13. 'In Spite of All the Danger'
14. 'You Won't See Me'
15. 'Love Me Do'
16. 'And I Love Her'
17. 'Blackbird'
18. "Here Today"
19. 'Queenie Eye'
20. 'New'
21. 'The Fool on the Hill'
22. 'Lady Madonna'
23. 'FourFiveSeconds'
24. 'Eleanor Rigby'
25. 'Being for the Benefit of Mr. Kite!'
26. 'Something'
27. 'Ob-La-Di, Ob-La-Da'
28. 'Band on the Run'
29. 'Back in the U.S.S.R.'
30. 'Let It Be'
31. 'Live and Let Die'
32. 'Hey Jude'
Encore:
33: 'Yesterday'
34. 'Hi, Hi, Hi'
35. 'Birthday'
36. 'Golden Slumbers'
37. 'Carry That Weight'
38. 'The End'
Source: www.msn.com
Added automatically
646 views