News
Trevor Horn to join Yes for first time in 36 years at Royal Albert Hall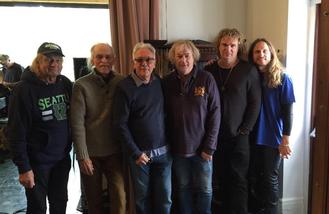 Trevor Horn will join Yes on stage at the Royal Albert Hall for the first time in 36 years.
On May 10, the band - which currently consists of Steve Howe, Alan White, Geoff Downes, Billy Sherwood and Jon Davison - will bring their extensive tour to London where they will be joined by Horn, who performed lead vocals on the prog rock band's 1980's album 'Drama', which they will perform in its entirety.
Guitarist Steve said: "Most of the songs haven't been performed in some 30 years."
It will be the first time the 'Heart of the Sunrise' hitmakers would have performed without bassist Chris Squire, who tragically passed away in June 2015 from a rare form of Leukaemia.
Drummer Alan commented: "Reliving those years will be very emotional. I know Chris would have loved to be here with us for this."
While the tour sees them relive their career spanning more than four decades, Alan says they haven't ruled out the possibility of making a new record in the future.
Speaking exclusively to BANG Showbiz, he said: "I wouldn't like to say no to making another album. At the moment we are focusing on the tours we've got coming up. But we've talked about it."
Elsewhere, the 66-year-old rocker - who performed drums on the late John Lennon's super-hit 'Imagine' - said his fondest memory of his career was when he put the phone down on The Beatles legend because he didn't believe it was him.
He recalled: "The best memory was when John Lennon phoned me up to ask me to be on his song Imagine. I put the phone down on him because I thought it was a friend of mine playing a trick on me. It was him and he called me back five minutes later asking me to do a gig with him."
And asked if he's planning on retiring any time soon, he added: "They [Yes] won't let me retire."
Yes UK tour dates:
April:
Wednesday 27, Glasgow, Royal Concert Hall
Friday 29, Newcastle, City Hall
Sat 30, Manchester, Apollo
May:
Monday 2, Liverpool, Philharmonic
Tuesday 3, Sheffield, City Hall
Wednesday 4, Bristol, Colston Hall
Friday 6, Birmingham, Symphony Hall
Saturday 7, Brighton, Brighton Centre
Monday 9, Oxford, New Theatre
Tuesday 10, London, Royal Albert Hall
Source: www.msn.com
Added automatically
799 views