News
Prince's albums top Billboard 200 chart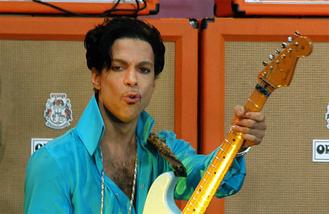 Prince's albums have surged to the top of the Billboard 200 chart following his death.
The 57-year-old star was found dead at his Paisley Park estate in Minnesota on Thursday (21.04.16), but the late singer has sold 256,000 copies of his records since which has seen two of his albums, 'The Very Best of Prince' and 'Purple Rain', hit number one and two spot on the US chart.
The music legend's greatest hits going to number one on the Billboard 200 marks the first time he has topped that chart since '3121' debuted at the summit on April 2006.
According to figures from Billboard, 'The Very Best of Prince' was purchased 179,000 times, an increase of 10,872 per cent on the previous week, and 100,000 were in traditional album sales.
'Purple Rain' was bought 69,000 times, an increase of 3,101 per cent, of which 63,000 were album sales.
Prince's passing came on the final day of the tracking week for the new chart so fans would've rushed to purchase his records in just half a day.
He is expected to feature heavily in the May 14 chart, which will reflect activity for the week ending April 28.
Prince was known for his explicit tracks but had insisted his songs were not supposed to be overly sexual.
Speaking in 1997 in a previously unreleased interview with Top of the Pops magazine as published in The Observer newspaper, he said: "People hear the sex in my songs much more than I ever write it. If you listen to the words in Sexy MF, you'll see they're about monogamy rather than promiscuous sex."
Source: www.msn.com
Added automatically
668 views