News
Harry Styles 'wants public romance with Kendall'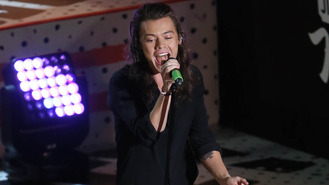 Harry Styles wants to stop "sneaking around" and go public with Kendall Jenner, reveals a new report.
The A-list couple has been linked romantically multiple times over the years, with their most recent hook-ups reported earlier this year (16). Despite Kendall's supposed new relationship with American basketball star Jordan Clarkson, sources close to the model say she's still close to One Direction star Harry.
"Kendall's holding back because she doesn't trust Harry enough to commit to him, especially with the whole world watching. Keeping people guessing takes the pressure off - going public would create (a) frenzy," an insider divulged to Britain's Now magazine.
"He's started to complain about all the sneaking around they've been doing. He wants them to come out as a couple because he really likes her."
With One Direction now on a hiatus, 22-year-old Harry has been given the chance to dip his toes into the acting world, a dream he's had for some time. He'll be starring in Christopher Nolan's upcoming WWII drama Dunkirk, and insiders say a link to 20-year-old Kendall would only boost his career in the U.S.
"It would also be undeniably good for Harry's profile – Kendall's top of her game and, in a lot of ways, is more famous than he is," the source said.
"The relationship would help his visibility in America, especially because he's got his heart set on doing movies. But the ball is definitely in Kendall's court – he can't rush her."
However Kendall was spotted partying with LA Lakers star Jordan at Coachella festival recently, while Harry has been linked to air stewardess Megan Smith. Reports surfaced claiming Harry had been romancing Megan, but the relationship allegedly soured after she saw photographs of him with Kendall over New Year.
Source: www.msn.com
Added automatically
675 views